Hi everyone! We just got back from Italy for Matt's company meeting. Yeap, you read that right, company meeting. Seriously, it is one of the coolest perks of his job! His company's headquarters are in Florence where they have their annual sales/customer meeting, and I get to tag along. Woohoo! We usually try to go several days before or stay after the meeting to explore and have time to ourselves, and this year we did a tour to our favorites: Venice, Siena, and (of course) Florence. Although it flooded in Venice on our last day and was a bit rainy in Siena and Florence, we had an AMAZING time and it was so nice to spend an entire week with just the hubs. One of my favorite pastimes when we are in Florence is to simply stroll the streets and soak in all of the latest fashion trends in the motherland of style. I mean, when a country is the birth place of such fashion icons as Gucci, Prada, Valentino, Missoni, Brioni, Versace, and my personal favorite, Salvatore Ferragamo (swoon), even the children are mini fashionistas and play in the streets all decked out in their uber posh labels! Seriously, Gucci has a massive section in their flagship store dedicated solely to the bambinos: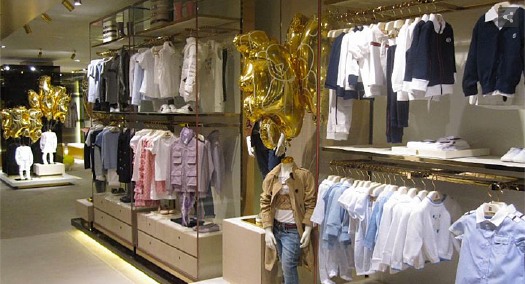 In addition to the clothes, I also love classic Italian interior design and enjoy exploring the palaces to drool over the beautiful frescoes, chandeliers, furnishings and finishes:
And you can also find some amazing design elements in many of the hotels, like this fabulous rug and the beautiful Murano glass chandelier:
Or the mix of the classic moldings, regal linens, Murano sconces, and modern mirrored chest:
When selecting the finishes for our house, I tried to incorporate some of the design elements that we have found overseas during our travels. Like the dark wood trim and light walls in the Grand Hotel Baglioni's hallways (oh, and who can miss that AMAZING ceiling...hello lover!):
Does that paint and trim color scheme look familiar?
But as much as I love Italian decor, it is just a ttteeeeennnnssssyyy bit too glitzy for our house and not nearly approachable or cozy enough for everyday life. Instead, for our home, I want the furnishings and decoration to give me and my guests a feeling of warmth and welcome (like being wrapped in a hug when coming into the house)...and I find myself constantly drawn to English-inspired design, with its beautiful wooden antiques, bright rugs, and tartan fabrics. Don't get me wrong, I still love glamor and drama, and absolutely plan to incorporate that into the house to keep things fresh and for some added flare. And to me, when it comes to taking classic furnishings and infusing them with a modern twist and a pop of glamour...no one does it better than my personal design Mr. Miyagi - Ralph Lauren. And his Apartment No. One collection is spot on with my vision:
In this collection, Ralph, or Mr. Lauren if you're nasty (NASTY! Nasty boys, don't mean a thing! Bomp bomp bomp da la bomp bomp, Oh you nasty boys! Gotta love some Janet!), has masterfully mixed classic elements likes the black chesterfield couch, the red and navy oriental rug, the tartan chairs, fabulous moldings and crystal chandelier, with modern pieces like the black lacquered chest, the sleek wood coffee table and the cheetah print throw pillow. Perfection! And here are a few more pictures from the Apartment No. One collection:
The mix of the black furnishings, gold trim, white walls and red roses in this picture are is so glamorous! To me, this room looks like it was pulled out of a 5th Avenue apartment in NYC.
J'ADORE!
And how cute are those dogs! I also love the mix of tartans, croc, and leather in the dining room below:
Oh those pictures just make me happy! And the best thing about Ralph Lauren and the Apartment No. One collection, is that Matt loves it too!!! We actually 100% agree on this (shocking, I know)! So now that we have been back in the house for a few months and have a better feel of how the new layout will work, we are starting to look for new furniture to take over for our parents' hand-me-downs, and our motto for the project has been WWRLD (i.e., "What Would Ralph Lauren Do?"). Here are some of my favorite pieces from the Apartment No. One collection. The chesterfield couch (i.e., the Brook Street Tufted Couch):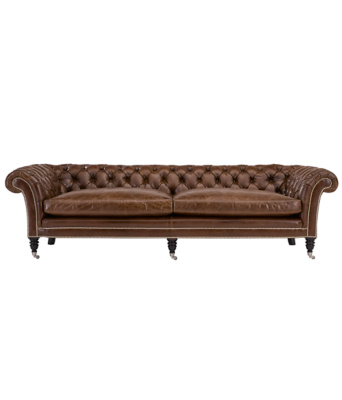 the New Bohemian Cocktail Table:

the Brook Street Chest: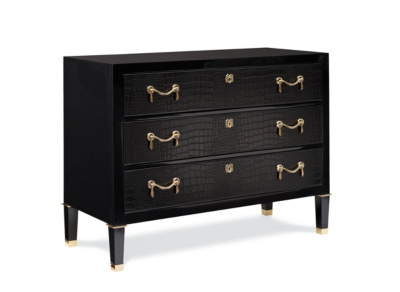 the Cannes Gueridon Table:
and the Bishopgate Mirror: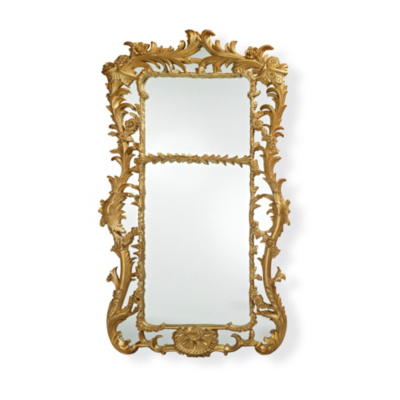 And for any Downton Abby junkies like me...this mirror is featured in the dining room this season (since Ralph Lauren is one of the sponsors). I don't have a screenshot now, but will post it tonight! However, no matter how gorgeous they are, the simple fact that they are Ralph Lauren makes them SUPER EXPENSIVE (like, you could buy a car for the price of any one of these little beauties...OUCH!!!). So needless to say, although I adore all of these pieces, they won't be making their way into our casa anytime soon. Instead, I am using them as my inspiration and have now commenced the "Great Furniture Hunt of 2014" to try and find some equally fabulous but substantially more affordable finds. It's going to be tough, but wish me luck! I will keep you posted as I go. So ladies and gentlemen, start your engines and let the shopping commence!!!